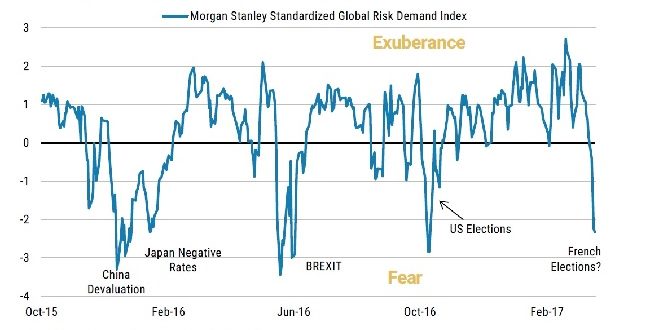 Market Summary
 
In the last few weeks, U.S. and world equity markets have exhibited the greatest period of weakness since January because of concerns that President Trump's tax cuts and infrastructure spending will be delayed or abandoned — and at the same time, the arrival of fears due to rising geopolitical risks.

Have these events caused the buying opportunity that investors have wanted?  Within three days, the first phase of the French elections will have occurred; the final round will conclude on May 7.  The U.K. has scheduled an election, but they have already agreed on Brexit, and this election will just be about the strengthening of the Tory majority in Parliament.  Syrian, Korean, and Russian issues remain on the table, but historically, concerns like these have not disrupted stock prices unless they become decidedly more aggravated.
Source:  Morgan Stanley Research


Meanwhile, the global economic recovery continues.  U.S. corporate profits for the first calendar quarter are now being reported, and thus far they are exceeding estimates.  We anticipate that corporate profits will be up on average 9–10% for the first quarter, with revenues up by 7–8%.  These are strong results, and will continue to create investor interest and encourage higher stock prices.

Currently, several indices of global risk aversion show a degree of fear close to that after the Brexit vote and the recent U.S. presidential election.  Such fear, when combined with current skepticism that the Trump administration can achieve its tax cut and infrastructure goals, is an indicator that the market could be close to a point at which it reverses course and moves up.
The U.S. Market

We continue to believe that the U.S. has the potential to move higher over coming months.  The current period of fear and concern may be a good time to add to positions.

Europe

We are optimistic that the developed countries of Europe will move higher in coming months.

Emerging World

We are bullish on the economic prospects of India and, if fighting can be avoided (which we believe is possible), South Korea.

Gold

Gold has been moving steadily upward.  It is being propelled by a lower/stable U.S. dollar and by geopolitical concerns.  In our view, gold will continue to move higher if the dollar maintains its current level.

Thanks for listening; we welcome your calls and questions.