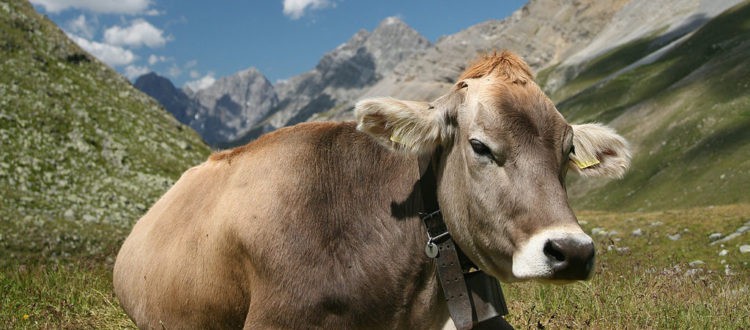 Cows on Wi-Fi Show the Future of Health Care
We've written several times in the past about the coming integration of health sciences, the internet of things, and big data analytics – a noteworthy example is Alphabet's [NASDAQ:  GOOG] life sciences research lab, Verily Life Sciences.  Verily is pursuing a variety of potentially transformative projects in this area:
Contact lenses that allow people with diabetes to continually check their glucose levels without a blood test;
A spoon for people with tremors;
The Baseline Study, a project to collect genetic and molecular information from enough people to create a picture of what a healthy human should be, so that monitoring will detect deviations from the baseline and allow early intervention before symptoms of disease even appear; and
A disease-detecting nano-particle platform.
It is likely, though, that these kinds of technology will see their first implementation in animal populations rather than human populations.  Particularly in agriculture, this is already occurring.
We read recently about a European start-up, SmaXtec, which is putting sensors in the rumens of cows – the first of their several stomachs.  At a price of about $500, these sensors last four years (the producing life of the average dairy cow), and automatically send data about stomach pH, the cow's temperature, her movements, and how much food and water she's consumed.  The big benefit is an early warning of illness, which saves time by requiring fewer proactive veterinary examinations, and since sickness is caught earlier, antibiotic regimes can be more brief.  The sensor also allows a clearer view of a cow's reproductive cycle, a critical part of any dairy operation.  So far 15,000 cows are online – out of the 90 million dairy cattle worldwide.  Similar technology is being prepared for other animals, such as chickens.
We hope that this technology will not only increase agricultural yields, but will improve the lives of agricultural animals by keeping them healthier and reducing the need for drugs and medical intervention.  We can watch here to see the first implementations of the technologies that will shape human health monitoring in the near future.
Investment implications:  Firms such as Alphabet [NASDAQ:  GOOG] are exploring the intersection of health sciences, the internet of things, and big data analytics, and will eventually usher in an era of finely-tuned health monitoring that will allow humans to receive more effective health interventions before disease symptoms even appear.  While these technologies are in the experimental stage in humans, they are already beginning to be deployed in animals, especially in systems to monitor the health and fertility of agricultural animals.  Such technologies have the promise of increasing yields, and bettering living conditions and animal welfare.  For a view of what will be coming in your own healthcare, watch cutting edge animal health tech.