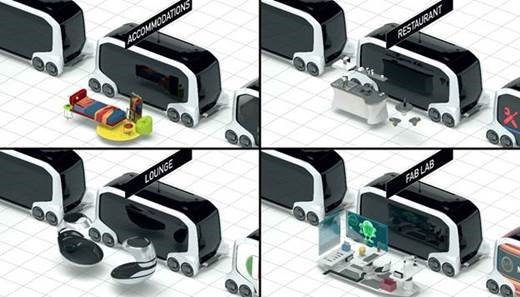 Get Ready For Self-Driving Everything
Toyota's Self-Driving Boxes and the Future of Retail
We commented last week on Toyota's [NYSE:  TM] presentation at the Consumer Electronics Show (CES) — an expo that has become so auto-centric in recent years that a running joke dubs it the Car Electronics Show.  TM calls its new concept the "e-Palette," and it is essentially a self-driving transparent box on wheels which can by internally configured to be a mobile almost-anything.  In short, it is a mobility-as-a-service ecosystem which will be able to move everything from people, to accommodations, to light manufacturing facilities, to retail storefronts.  If the direction of consumer demand is towards instant delivery, what could be better than being able to summon a mobile retail outlet?  Why travel to your accommodations when you can summon a room for the night from your smartphone, wherever you are?
Source: Toyota

The project already has big names as partners — Amazon [NASDAQ:  AMZN], DiDi (the "Chinese Uber"), Mazda [OTC:  MZDAY], Pizza Hut [NYSE:  YUM], and Uber itself.  TM hopes to actually debut the project at the 2020 Tokyo Olympics.
As usual for CES, the more forward-thinking projects are difficult to distinguish from science fiction.  A future city without cars, and with fleets of e-Palettes smoothly gliding around to deliver services certainly feels like science fiction.  The direction of tech development in mobility is clearly towards electric and autonomous vehicles, towards mobility-as-a-service, and away from traditional car ownership.  However, enthusiasm among analysts and the public has been reaching a crescendo over the past year, and we think it is unlikely that the transformation will be as rapid as current opinion suggests.  We monitor projects like TM's e-Palette to keep abreast of the technological trends which will be of significance to investors at some point in the future.
Investment implications:  Mobility-as-a-service is gaining traction as a technological theme, moving beyond personal mobility and food delivery to encompass other markets including accommodations, services, retail, and even manufacturing.  The futuristic projects are getting more compelling, but they are still not ready for the investment prime-time.  Investors with a speculative bent and a long time-horizon might consider the newly launched KraneShares Electric Vehicles and Future Mobility ETF [NYSE:  KARS], a basket of companies related to the theme.  This basket could also be a jumping-off point for investors in building an interest list of companies for further research.  
Please note that principals of Guild Investment Management, Inc. ("Guild") and/or Guild's clients may at any time own any of the stocks mentioned in this article, and may sell them at any time.  In addition, for investment advisory clients of Guild, please check with Guild prior to taking positions in any of the companies mentioned in this article, since Guild may not believe that particular stock is right for the client, either because Guild has already taken a position in that stock for the client or for other reasons.